Good morning! It's the beginning of Wasteland Weekend! Our Creative Director Farren Fox is stationed out in the deserts of Kern County California to attend the show, and will be sharing Fractured Lands bottlecaps and shirts with the wastelanders there! We'll have lots of pictures coming in, but wanted to share this first shot from our friends V2A who'll be performing that weekend!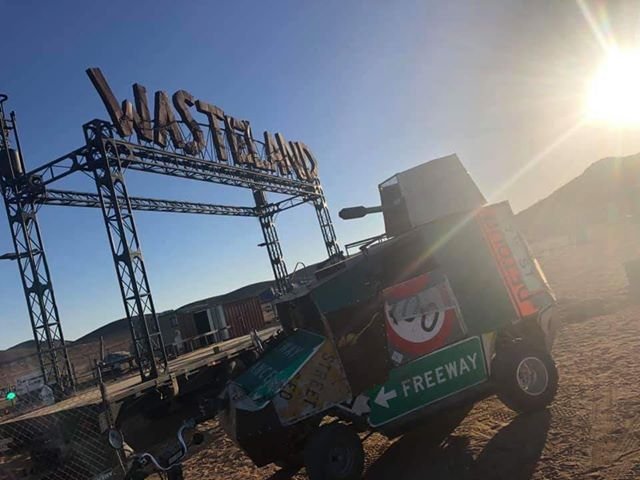 Check it all out at their official website! http://www.wastelandweekend.com/
For the rest of us, STORMRIDERS, RAIDERS, WARMONGERS and wastelanders, we'll have to suffice with tearing it up online! We're heading into our weekend with a quick update from the dev team! This includes a new performance fix that reduces draw distances and a change to the storm to increase visibility for those in-to-out shots in the safe zone. The update should go out after 11:30 AM PT You can read the full update notes below:
Crash Fixes:
Fixed a crash encountered with material stack

Fixed a crash encountered sometimes while a player is in their inventory menu before the cardinal option screen
Revisions and Adjustments:
Revised Storm:

Altered storm opacity to equal levels from both inside and outside the safe zone

Additional revisions to the rendering system to improve building, foliage, and general streaming
Additional Bug Fixes:
Addressed various instances of floating objects (particularly loot) spawning in mid-air
Addressed an issue where sometimes loot would remain invisible unless moused over
Addressed an issue where sometimes loot would disappear when looting a dead player
Most of the work on our plate is centered around Season 2! We'll have more to share with this soon, sorry for the wait!
We hope everyone enjoyed the Free Weekend, we'll definitely be hosting another to commemorate Season 2 along with some other promotions we hope will entice you back to Fractured Lands. In the meantime, grind for those Season 1 items, and we'll join ya along the way!
What a Lovely Weekend
Robert